Atlanta Air Authority's AAA Comfort Club
Atlanta Air Authority's AAA Comfort Club should be an essential part of your HVAC system life which is your home's most expensive appliance. You wouldn't drive your car with out getting your oil changed would you? Many manufacturers require records of maintenance before they will honor their warranties. Changing filters is just part of making sure your system is healthy. Let us take care of your comfort. AAA Comfort Club Also Includes 10% Off Service Repairs, 5% Off equipment change-out replacements, and replacement standard 1″ filters.
Standard filters include:
20 x 30 x 1
20 x 25 x 1
20 x 20 x 1
16 x 25 x 1
14 x 25 x 1
14 x 20 x 1
14 x 14 x 1
12 x 12 x 1
Filters Larger than 2″ and special order odd size filters are not included but are discounted from the normal rates with a planned maintenance agreement. Filters in the 4″ and 5″ are typically referred to as "media filters" these filters range from $45 up to over $100 a piece depending on the brand and type. There are hundreds of different media filters from dozens of companies so we like to see what you have installed so we can make sure we're getting the right filter for your system and home.
Why Planned Maintenance?
Maintaining your equipment is essential. Your heating and cooling system is the most expensive appliance in your home and keeping it in shape will help control bills and could extend it's life. There are many components of your system that need special attention. Having your heating and cooling units checked at least twice a year is recommended for best health of your system.
Standard  Maintenance Agreements
Residential agreements are 12 months and do not automatically renew. Two visits are included and will be scheduled around six months apart. Call 678-215-6789 for details. Commercial agreements are 12 months and do not automatically renew. We typically would like to do a site visit to quote, two visit and four visit options are available.
Standard One Time Tune Ups
A standard tune up is a one time visit. There is no agreement or built in discounts for repairs if needed. Commercial tune ups are a little more than residential and sometimes require taller ladders. Filters are often not included and the typical price is $79 per system for residential.
Don't let this happen!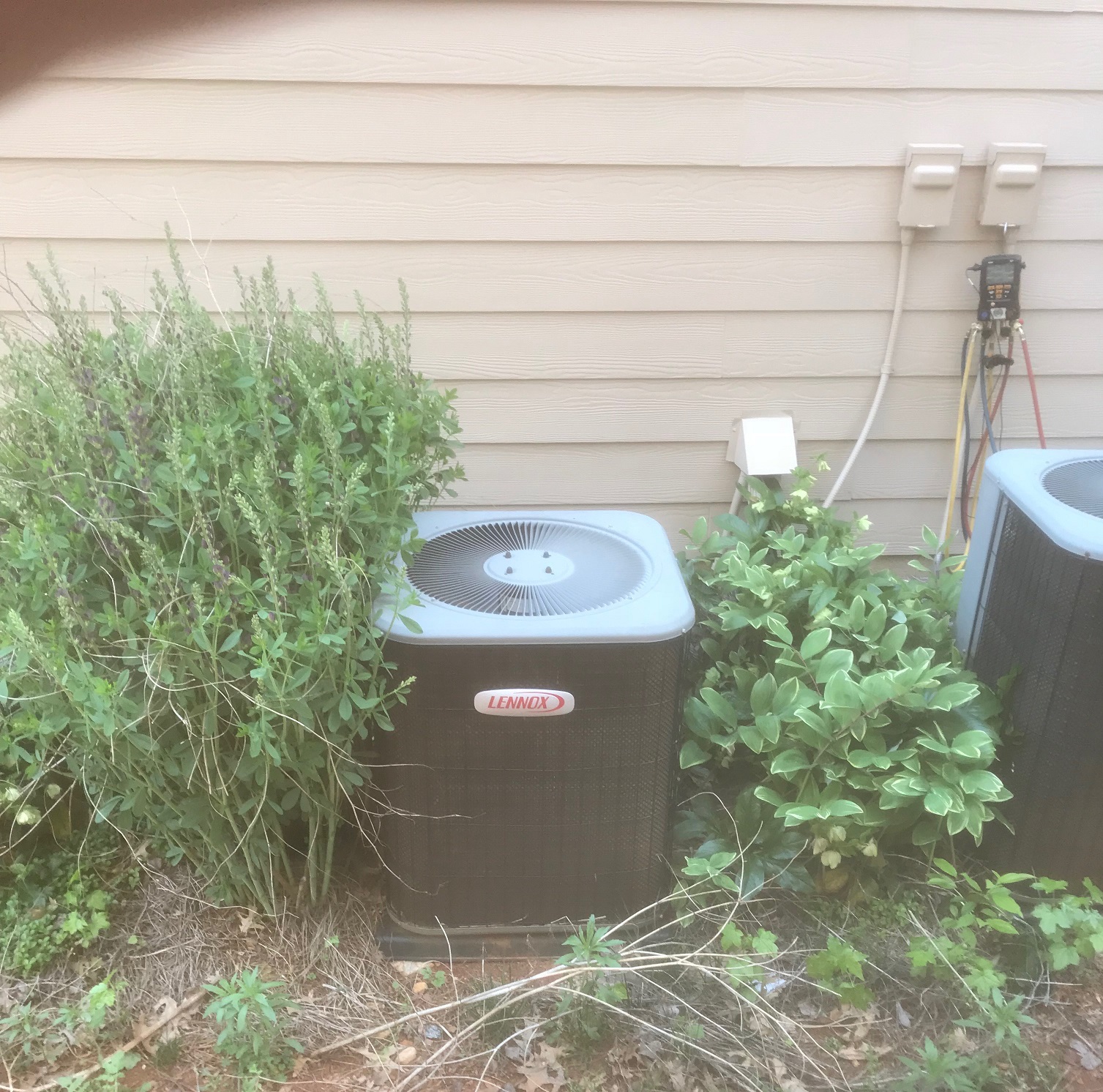 Cutting away brush is not part of the AAA Maintenance, we don't carry these tools, but you should not let your AC unit get to this point. There needs to be 5 plus inches clearance for the unit to breath. Air is being pulled through those fins, if air can't get through your system will suffer poor performance and it even can have a critical failure. This could even be considered in your warranty being honored. 
Trim around your AC and DO NOT plant shrubbery close to the unit. Let it breath. That's what it needs! Let it breathe!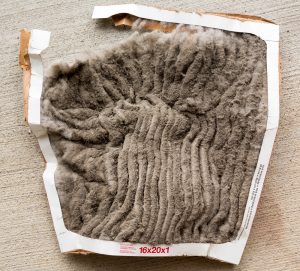 Don't Let your filters get to this point!
20 Point Inspection
Check and inspect heat exchanger
Clean and adjust burner assembly
Clean ignition assembly
Monitor flue draft for safety
Monitor refrigerant pressure
Test starting capabilities
Test safety controls
Clean or replace standard air filters*
Basic monitoring for correct air flow
Tighten electrical connections
Measure volts/amps
Lubricate all moving parts
Adjust thermostat calibration
Check thermostat batteries
Basic cleaning of condenser coil
Clean condensate drains
Measure temperature difference
Adjust gas pressure
Adjust pilot
Monitor cooling cycle in spring and heating cycle in fall
Not all systems require all check points, the 20 listed above above are the most common. There may be additional charges for specialty filters or services not included in the standard agreement. Please consult your AAA tech when they arrive at your home.
Scheduling
Maintenance visits will only be scheduled Monday through Friday 9AM to 3PM. Homes and businesses with more than 3 systems will be scheduled in the earlier side of that window due to the time it takes to complete a maintenance, typically one hour per system but hopefully quicker.
Transfers
Maintenance agreements are transferable to new owners or commercial tenants should that situation come
around or you may transfer your AAA maintenance agreement to a new property so long as it is in our service area. Additional systems or special filters may incur additional fees. There are no refunds for partially used maintenance agreement visits.
Quoting Commercial
Commercial Properties will need to be surveyed by our crews to ensure we have the correct system and filter counts to propose a contract. The initial visit for the survey costs $79 due at time of scheduling but that fee will be deducted from the proposal should you choose our services.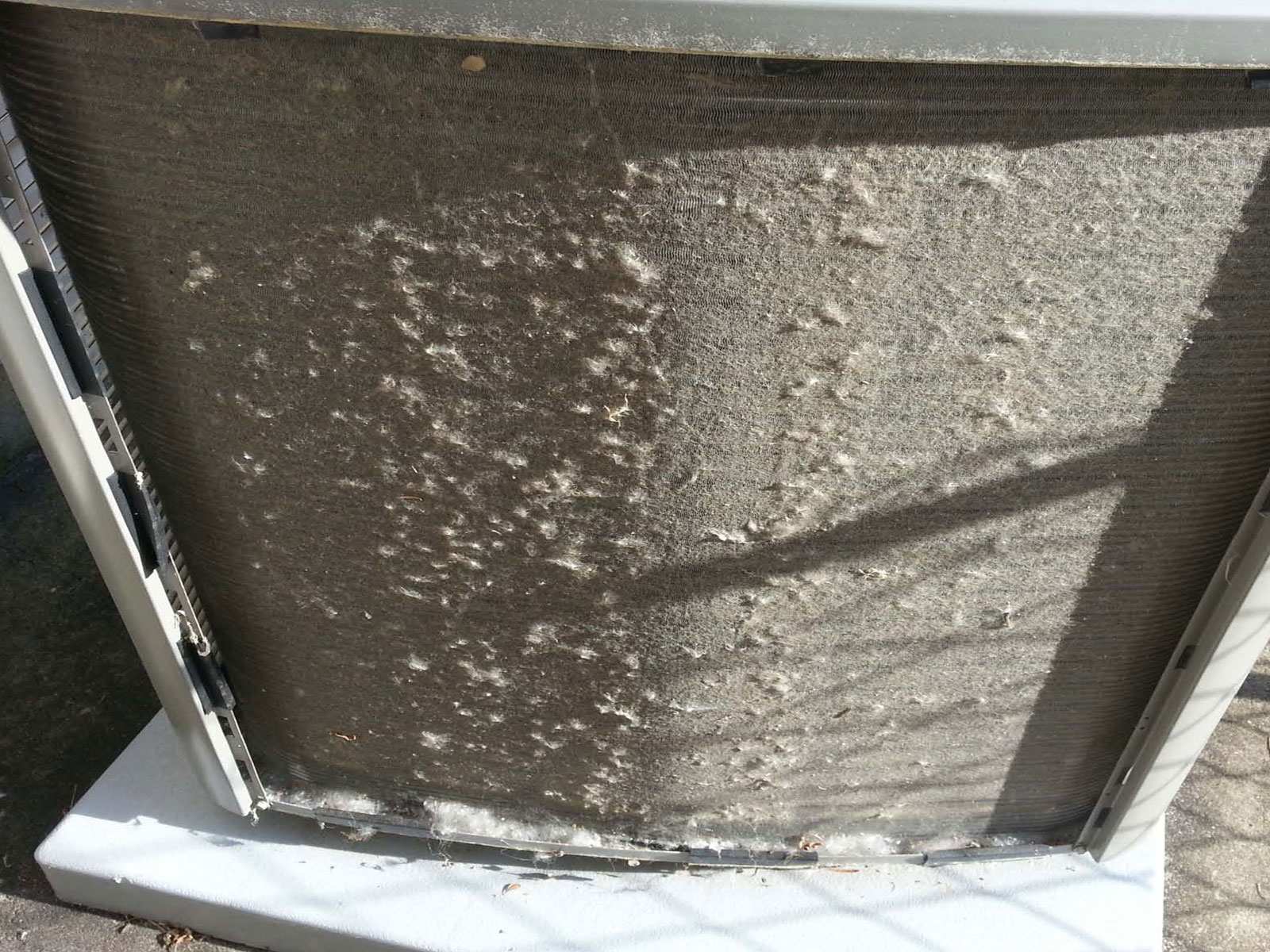 Dirty Coils can kill your system, with maintenance we wash the coils. Ask about chemical coil cleaning (additional fee)